Our Purpose
Create a safe place for our community to come and always be welcome.
Who we serve
Our present and past members, guests, the sport of hockey and the Hobson's Bay community.
Our Vision
To lead Victorian hockey in sustainable competition and community engagement.
Our Mission
Amplify our club's sustainable future success by:
Fostering the growth and development of the sport of hockey
Investing in the ongoing development of our members and our club
Inspiring and creating positive community impact
Altona Hockey Club Inclusion Pledge
As a member of the Altona Hockey Club community, I promise to follow the guidelines below to help support all members and their differing backgrounds, gender identities, sexual orientations, religious beliefs, races or ethnicities, ages, physical or cognitive abilities.
I promise to consciously promote acceptance and demonstrate respect.

I will actively listen to each person's story.

I will practice inclusive language and challenge any exclusive attitudes or behaviours.

I will challenge myself to understand issues my fellow members may be facing.

I promise to educate others and foster a welcoming community that treats every person with dignity.

I pledge to help make everyone feel safe, valued and integral to the Altona Hockey Club community.
In signing this pledge wall, I am making a visible commitment to which I will endeavour to honour at all times.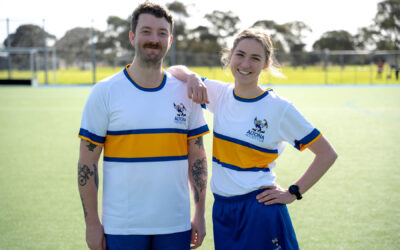 The Altona Hockey Club playing uniform is designed to be a modern, inclusive uniform for the whole club, with the traditional Royal Blue and Gold of the AHC are prominent in the design.