The Altona Hockey Club Board Supports the Voice to Parliament
July 6, 2023
The Altona Hockey Club Board supports the recognition of Aboriginal and Torres Strait Islander peoples in the Australian Constitution through a Voice to Parliament.
Many Altona Hockey Club members have been undertaking work to recognise and celebrate Aboriginal and Torres Strait Islander peoples, history and culture, in the lead-up to Indigenous Round. The decision to support the Voice has come from this work, combined with our Club values to serve the community and provide an inclusive club for all people.
The Club wants to be clear, we are not instructing anyone on how to vote but rather state that as a Board, we believe supporting a First Nations Voice to Parliament is the right thing to do. We believe the upcoming referendum is an important moment in Australia's history and encourage everyone to seek out the information they need to form their own views.
Further information can be found here: https://www.reconciliation.org.au/reconciliation/support-a-voice-to-parliament/
Our Values: https://www.altonahc.org.au/vision-mission/
Read the latest Altona Hockey Club news: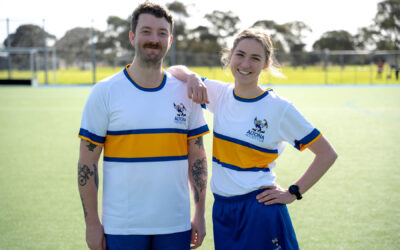 The Altona Hockey Club playing uniform is designed to be a modern, inclusive uniform for the whole club, with the traditional Royal Blue and Gold of the AHC are prominent in the design.