PERFECT HARMONY COTERIE GROUP
The Perfect Harmony Coterie Group is the pre-eminent supporter group at the AHC, this is the membership if you want to make a contribution to the future of the Altona Hockey Club.
Perfect Harmony was formed in 2014 to help support the ambitious facility development plans of the AHC. Already, the founding members have been a key component in helping us raise the funds to re-surface our field. The re-surfacing would not have happened if we did not have half the cost of the ground ready to go, and since that time we have been working hard to put ourselves in a strong position to continue to develop our facility thanks to the help of the Perfect Harmony Coterie Group.
With the facility fundraising goals met, we have switched focus of the Coterie Group to coaching, which is one of our biggest expenses, and such a critical success factor on the field and in developing our members.
The 2023 membership includes:
Voting Rights at the AGM
Membership in the Perfect Harmony Coterie Group
Your name in the AHC Clubrooms & on the AHC website
Members Cap
AHC Bumper Sticker
2023 Premier League Fixture Fridge Magnet
$10 AHC Club Voucher
To join the Perfect Harmony Coterie group:
PERFECT HARMONY COTERIE MEMBERS
We would like to take this opportunity to thank the following Coterie Club members for 2022.
Tracey Drake
Linda Samson
Ross Schubach
Merryn Brennan
Emma Aitken
Robert Burns
Phil Patterson
Marc Richardson
Bronwyn Kelly
Tyson Priddle
Morris Burgess
Peter Symons
David Burns
Mike Whitford
Rod Johnson
Danielle Schubach
Peter Dolenc
Steve Campbell
Kevin Brennan
Brian Fanning
Tianie Grunwald
Judy Patterson
Leanne Meiers
Alex Tyrrell
Find all of the latest AHC news
Read on below for all of the news from the Altona Hockey Club.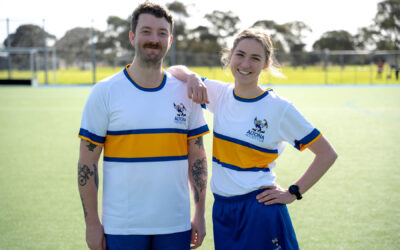 The Altona Hockey Club playing uniform is designed to be a modern, inclusive uniform for the whole club, with the traditional Royal Blue and Gold of the AHC are prominent in the design.