Overseas Hockey Players
Altona is located in Melbourne, Australia – just 15 minutes out of the World's Most Liveable City CBD on the shores of Port Phillip bay, a stones throw from Williamstown and only 1 hour from the world famous surfing town of Torquay.
We are a friendly, family oriented club, while boasting mens and womens teams in the top competition in Victroia. We have a hybrid wet/dry playing surface, clubrooms, canteen and bar and we hold a variety of club functions throughout the year. Over a number of years, we have had players selected in junior, senior and masters state and national teams, including Canadian international Matthew Guest and our women's captain, former Hockeyroo Danielle Schubach.
Recently we have had many international visitors from UK, Germany, New Zealand (Melissa Johnson) and Canada (including Internationals Richard Hildreth & Stephen Bissett, Kate Gillis and Marian Dickinson), Spain (Nil Marí Garcia and Pol Ribas Rovira) who have had a fantastic time and enjoyed the high quality Aussie hockey.
We warmly welcome all new players, from interstate/overseas visitors, to experienced players transferring from other clubs and right through to new players who have never picked up a hockey stick before! Our club has a strong family focus that encourages participation at all levels of endeavour whether it be playing hockey, organising activities or enjoying each other's company. The Australian season runs from March – September and Melbourne is the sporting capital of the Southern Hemisphere, so if you are currently playing hockey in Melbourne, or looking to move to Melbourne on a working holiday/gap year/student exchange in 2014 and are looking for a club to play for please feel free to contact us. We can assist by offering accommodation through a host family, as well as providing paid coaching/umpiring opportunities with local private schools in addition to assisting with employment.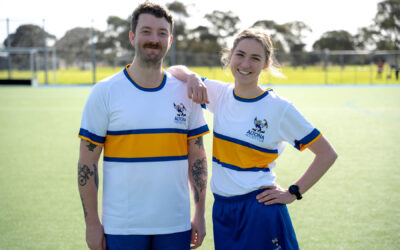 The Altona Hockey Club playing uniform is designed to be a modern, inclusive uniform for the whole club, with the traditional Royal Blue and Gold of the AHC are prominent in the design.