Altona celebrates inaugural Pride Cup
On Sunday the Altona Hockey Club hosted its inaugural Pride Cup to celebrate inclusivity and acceptance of the LGBTQI community as they faced Southern United in crucial Premier League clashes. The Men and Women played in an alternate playing uniform featuring a rainbow sash and rainbow socks as a symbol of their support, while players and supporters were encouraged to sign a pledge wall to support for the cause.
Women's Premier League captain Bronte Kerley played a dual role on the day, as one of the key organisers of the event, "the day is all about celebrating diversity of all kinds within our sport and making a visible statement about our commitment to fostering an inclusive culture."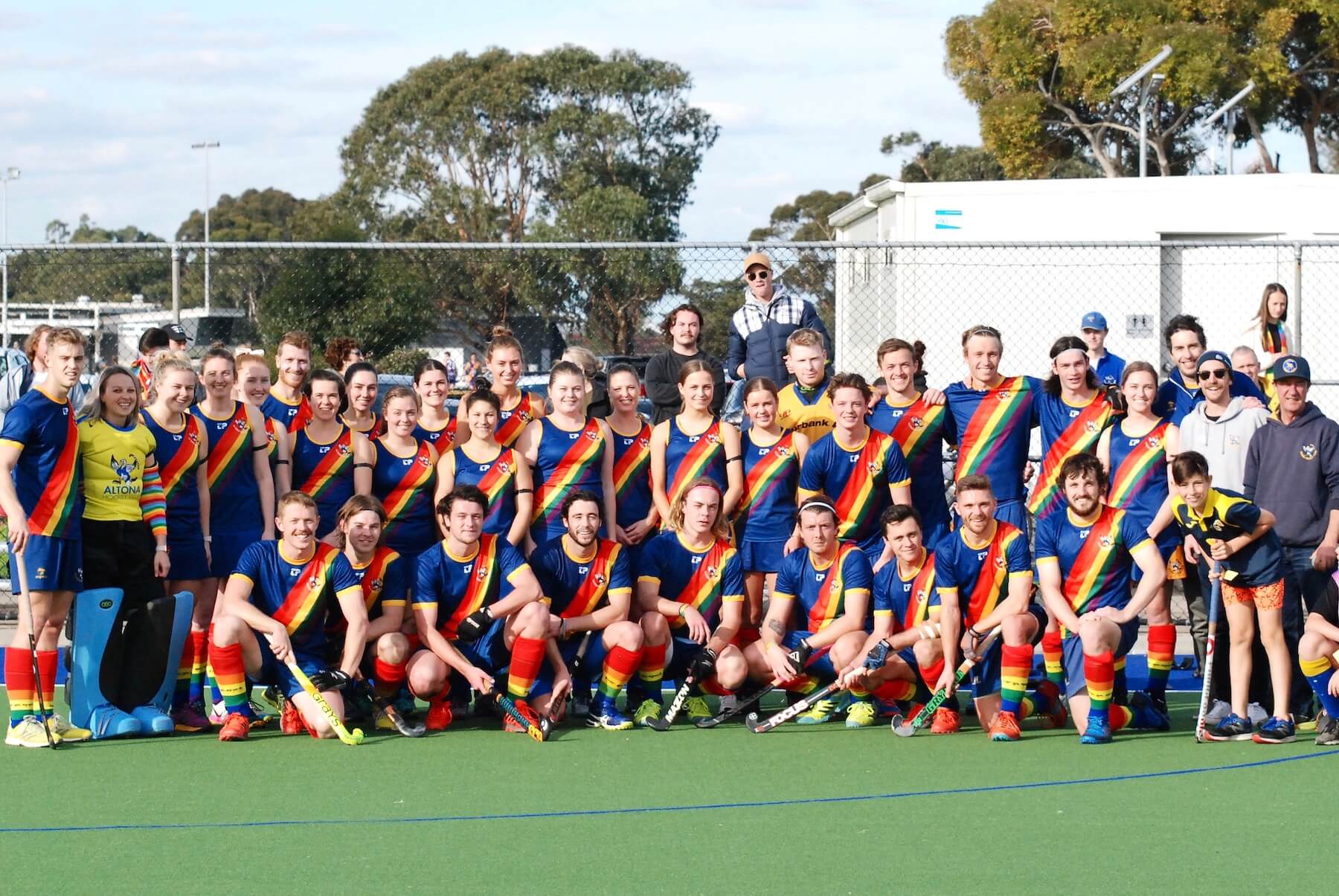 On the pitch the men started well against the unbeaten Southern United as they battled to keep their spot in the top 8. The first quarter saw plenty of chances before Southern opened the scoring through Josh Ephraums, with Cooper Burns hitting straight back for the A's. A fast paced and highly skilled game, Southern took a 3-2 lead into half-time before blowing Altona away with a 3 goal 3rd quarter. Southern closed the game out to come away with a 7-4 win. Mack Dolenc continued his great season in defence for the A's while Andrew Scanlon added 2 more goals to take his season tally to 17 from 15 games.
Captain Harry Dolenc lamented the ability of the A's to take their chances, "Southern are a quality side, they are top of the ladder for a reason, we created enough chances but they were able to convert much better today. We'll learn from this and come back, the boys loved playing in the rainbow kit for a great cause."
The Women's side had another milestone to celebrate with goalkeeper Taylah Brennan playing her 150th Premier League game for Altona. Southern United went in favourites sitting in 4th position on the ladder, and featuring recently capped Hockeyroo Amy Lawton, but the game was extremely even early on. It took a moment of individual brilliance from Lawton to break the deadlock in the 43rd minute with an incredible solo effort starting with the ball in her own half.
The lead didn't last long with Altona's own Australian representative Danni Schubach hitting back to equalise just two minutes later leading to a frantic end to the 3rd quarter highlighted by two incredible saves, firstly from Brennan, and then from Southern's Ginny Wilson. The game fittingly ended in a draw with Sana Allah giving Southern the lead yet again before Jess Brennan continued her stellar year to equalise late in the game.
Taylah Brennan was thrilled with the contest, "(it) was really intense and competitive from the first whistle to the last, with lots of chances for both teams. It was such a great experience to play a milestone game on such an important club day, surrounded by an amazing team of girls who absolutely gave everything they had."
The day was made possible by the donations of Glenn & Mel Porra who lead the idea to celebrate the Pride Cup with a rainbow coloured uniform, Pete Dolenc who contributed generously and many club members who volunteered their time to make the event a success. Kerley summed up the key theme of the event within the local community, "It's a great opportunity to reflect on how you might be able to do better for the people around you and any future club members."