2021 AHC Social Summer Hockey
Starting Wednesday 20th January, 2021 and running for 7 weeks, introducing AHC Social Summer.
Mixed social summer hockey for open age players, only $5 per player and just turn up on the night with a blue and white shirt – put your name on the board and you will be sorted into a team.
Games will mostly be 4×10 min quarters, half field and 5 on 5 or 6 on 6 etc. depending on the number of participants each week.
Everyone is welcome, so a great opportunity for experienced players to get back on the pitch, new players to come down and everyone in between.
Arrive at 6.45pm to put your name on the board and have a hit – games will start at 7pm.
Read the latest Altona Hockey Club news: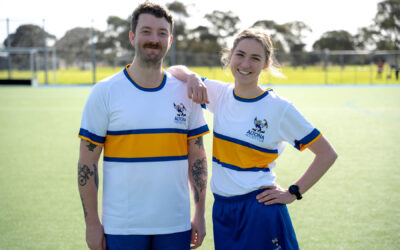 The Altona Hockey Club playing uniform is designed to be a modern, inclusive uniform for the whole club, with the traditional Royal Blue and Gold of the AHC are prominent in the design.